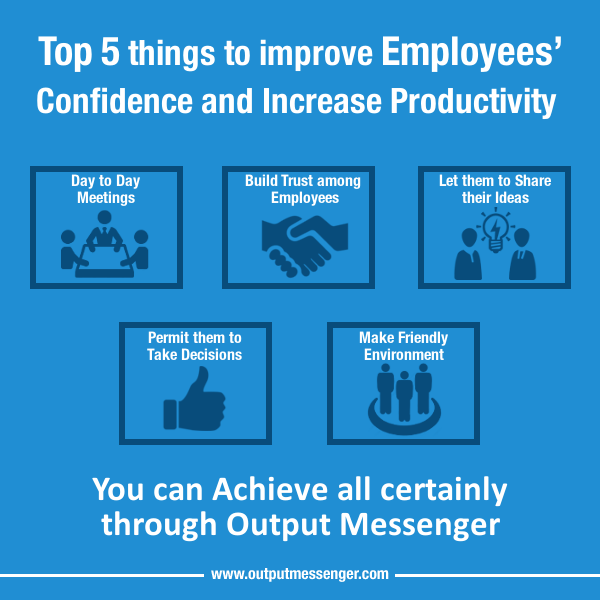 Confidence is the token for Employees success. Confidential people are self-motivated, have self-esteem and have will to face risk. But there may be many reasons to lack confidence such as less experience, lack of required skills, feel uneasy to expose the things at right time.
As an entrepreneur or project manager, its our duty to ensure the employees ability. If the employees are happy with their work, they will do their job effortlessly. Here are 5 tips to stir up Employees' Self-confidence and Productivity.
1. Day to Day Meetings
Meetings will give a brief sketch of their daily workflow. It will reduce their stress about what they are going to do, how to do etc. This clear idea will ignite a fire of confidence to them about their work and their performance. You may conduct online meetings to discuss with your employees or colleagues daily about their tasks. It will lead them to learn and utilize their opportunity.

2. Build Trust among Employees
The term "Trust" is immeasurable aspect but must have to build in an organization. Trust is a key factor to improve relationship with employees which also plays an important role in all other activities in your organization.

If an employee finds that, he is trusted by his employer even his opinion differs, he will speedup his work even in low cost. It can be reversible. High speed with low cost yield high / more productivity. Hence trust and respect your employees which will take your business to the top.
3. Let Employees to Share Ideas
One man army won't win in organizational field. Your employees are the great resource of information and ideas. Make them to share the knowledge which will thrive the innovation and take better decisions.
Give freedom and lend your ears to their brain. They can share their ideas only if they have positive working environment.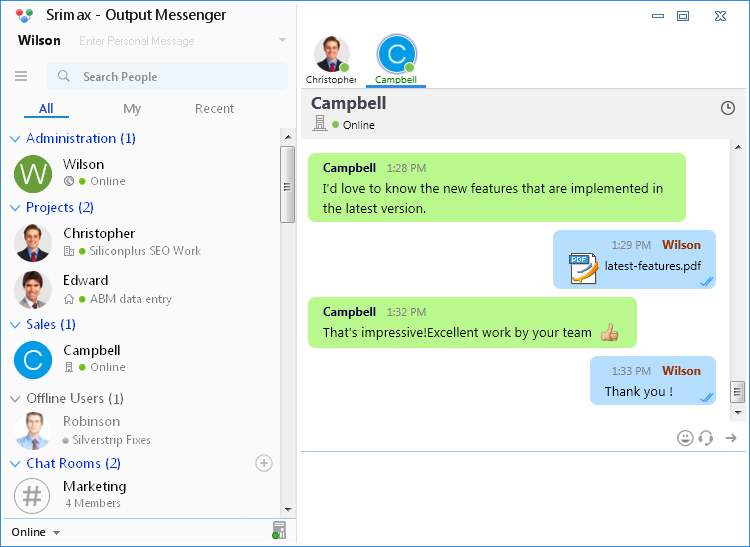 4. Permit Employees to take Decision
Accept the employees' voice in decision making. Express your employees that their contributions/opinions are valuable. It will make your employees happy. The happy employees will be more energetic and work productively.
5. Make friendly environment
Get regular feedback through Instant chat or Group chat that will enable you to know that how your employees feel about their work.
Also make all your employees to connect socially across your organization. It will make a happy and friendly work environment for your employees and get clarified their doubts on tasks instantly as well as improve team collaboration.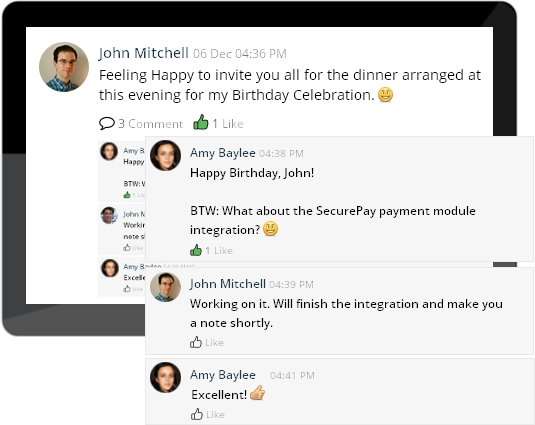 All these above five aspects are interlocked with each other and can be achieved through the instant LAN messaging software Output Messenger. It is integrated with the Enterprise Social Network Output Wall and the Project Management software Output Time to improve the Team Collaboration as well as total Productivity.