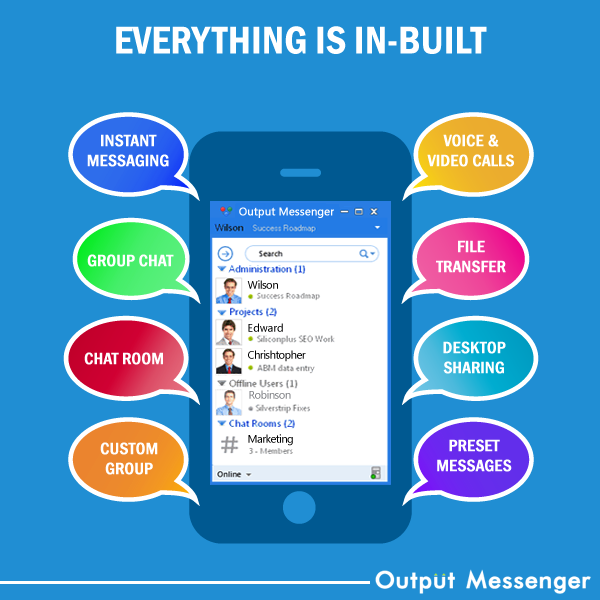 Output Messenger has evolved as collaboration application with all its communication features (everything) in one pack. Are you running after special application for chatting , file transfer, desktop sharing, voice or video call or conferencing? for your Operating System. Now there is no room to toil, all of these features are going to be in your hand under one roof "Output Messenger". Its really fits to you and will make you to feel very comfortable and luxurious with its following characteristics.
1. Instant Messaging
Chat with your "co-worker" or "buddy" who is in online and share official information with them. You can also leave offline message to your colleague. You can get pop-up notification in your mobile. You may use it on multiple devices, these are all synchronized to indicate the read and unread messages also for consistent history. You can also sent confidential messages as "Off-the record" messages.
2. Group Chat
Group chat lets you to chat with more users at once. Any member can create your own customized group also can add other users to group chat. You can add members with no limit.
3. Chat Room
Chat room services offer private rooms for business discussions. Offline teammate can also can view your discussions, when they enter into chat room. You can discuss about your project, financial records and can have it for future reference.
4. Custom Group
You can have your teams as clusters, by creating a group. Avoid confusions by clustering your employees under their team using Output Messenger.
5. Voice & Video Call
Get connected with your team with international video calls. You can make a voice or video call anyone else on Output Messenger, anywhere in the world, at any time, in any browser.
6. File Transfer
You need not to follow any procedures to transfer your files. You can just drag and drop method. You can transfer without any limit.
7. Desktop Sharing
The best way to collaboration is sharing. You can share desktop graphics with clients, real time visual presentation. You can share charts, images, even audio and video, to others on remote computers.
8. Preset Messages
Save your valuable time by sending preset messages. Set and Send upto 50 preset messages using shortcut keys while chatting. You can also have "Escape messages", that will displays the specified messages (such as thanks, sure) at the bottom corner of your page.
9. Remainders
Are you worrying about your forgetting nature. You can set remainders which alerts you on accurate time.
10. Notes
Save your brainstorming ideas as notes for future reference. Whether you need to take notes in class, in meetings, around the house, or while on the go, there's sure to do it.
11. Internal Mail
With the Internal Mails feature, you can send mails to your employees or co-workers without using mailing servers & Internet connection.
In addition to the above features, our instant messaging software Output Messenger provides you splendid managing opportunities. Thus it acts as the right collaboration tool to project your team towards your Organization's goals.