Output Messenger – Chat History reveals you the past Chat Conversations easily, as the chat sessions are stored in your local computer.
Facts
1. Can view the history of particular person or as a whole.
2. Search Chats with keywords.
3. Filter Chat sessions by Users and Time periods.

Chat logs can be viewed in two ways as
1. View Log.
2. Chat Histroy.
View Log
Through 'View Log', you can have all of your conversation and view particular Chat session using filters.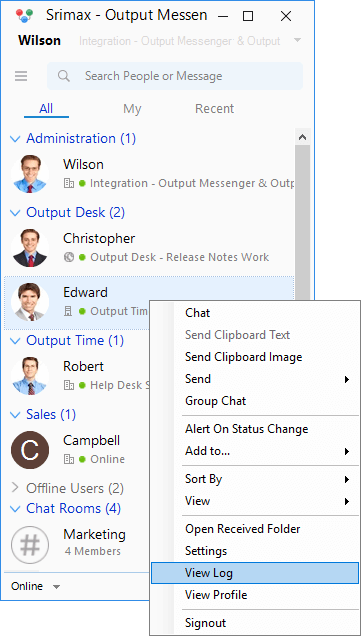 To View Log,
Right Click on the Output Messenger User List.
Click View Log. Now, the View Log pop-up will appear with Chat Conversation of current day.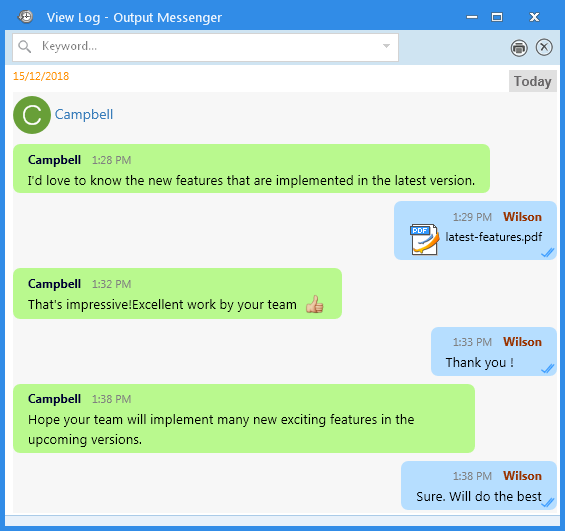 Additional Helpers
Search Box : Helps you to search using a keyword.
Time Filter : Helps you to load Chats for particular days from now.
User Filter : Helps you to list Chat session with the selected Users.
Chat History
Chat History option will display the chat session with the user, whose chat window is opened.
It will appear in every user's chat window on the top-right corner of the chat window.

To View Chat History,
Open the chat window whose chat conversation you want to see.
Click on the Chat History option, and select the Time intervals for that period you want to see.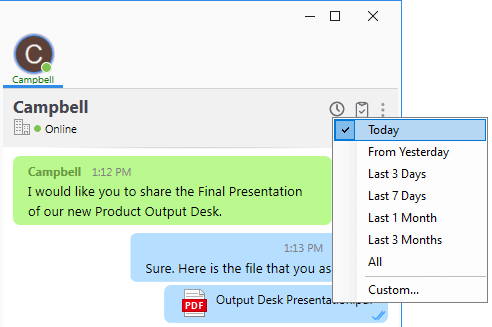 You can also search using particular word, using the search option at the bottom of the chat window.