Off-the-Record (OTR) messages are encrypted messages which will not be logged in your database. It will help you to send and receive the confidential management messages securely.
Facts behind Output Messenger Off-the-Record Messaging:
The Administrator / Manager users only can initiate and send OTR messages.
This facility is available only in One-to-One chat and for Messages only not for files.
Off-the-Record Messages
To send Off-the-Record (Locked) Messages,
In the Chat window, click on Lock icon to enable OTR option, by hovering on arrow. After enabling OTR option, the lock icon will be in Green Color.
Type and send messages. The messages will be listed with the Lock icon in-front of it.
After sending OTR Messages, you can disable it by clicking enabled Lock icon again.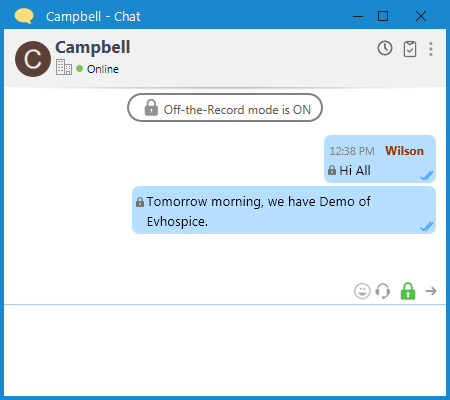 Can't Retrieve:
OTR Messages will not be recorded in Server as well as Client side. So, it can't be retrieved afterwards.