Are You in a Conference ?
Want to Take Notes ?
Want to record your ideas in real-time for future ?
Want to share the Notes you taken ?
Wish to allow your colleagues to access your Notes ?

If yes, Output Messenger Notes will fulfill all above business needs under one roof. With Output Messenger you can Create, Send, Share and Delete the Notes. You can easily capture the brainstorming ideas and Share them with your colleagues as well as can use it as idea pool. Surely, Output Messenger makes you to enjoy the Note taking experience.

You can find Notes option icon at the left side bar menu, by clicking Right headed arrow.
Add Notes:
To add Sticky Notes,
Click on Notes icon on the left side bar menu.
Click Add icon and take notes. You must have to provide a reasonable subject, so that you can refer in future.
Notes will be saved automatically.
Notes List:
Newly added Notes will be listed under Notes menu.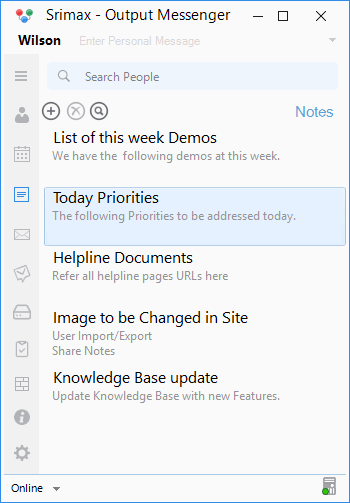 Send Notes:
Sending Notes help you to send your valuable notes and ideas as Message. Send Notes just by the following steps,
Right Click on the Notes you want to Send.
Click 'Send to' and check the Users you wish to Send in the Select Users pop-up.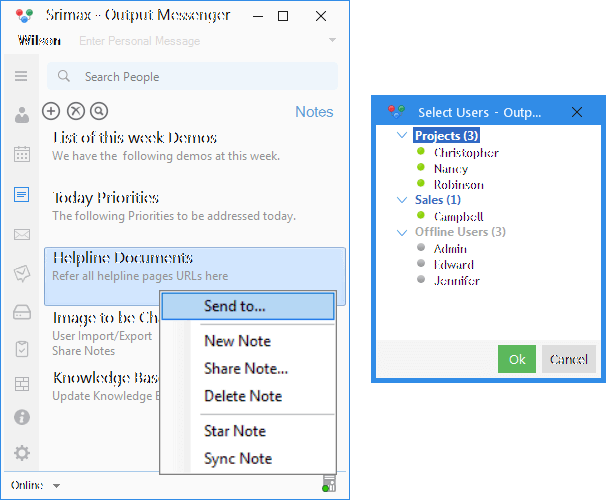 After hitting OK, your notes will be sent as Message.
Sticky Notes:
Stick the Notes in your Desktop to remind you of important tasks and keep track of what you have to do. You can un-pin just by a single click when a note does not require your special attention no longer.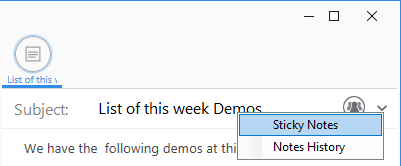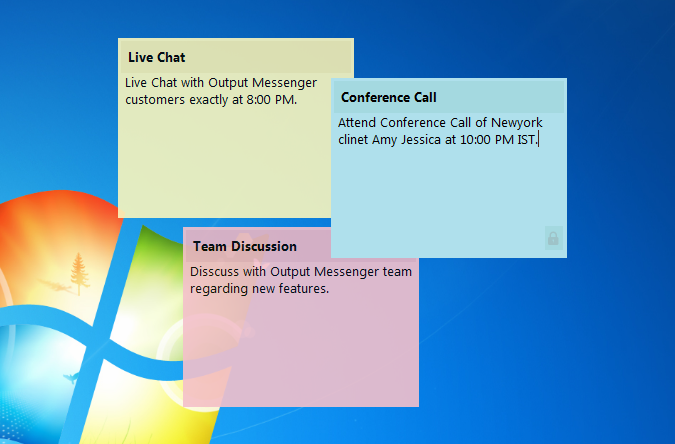 Share Notes:
Sharing Notes lets the receiver to have the Notes on their Notes list. Accessing to the Shared notes by the receiver will be based on the permission set by the owner.

To Share your valuable Notes,
Click on Share Note…, appears when,

Right Clicking on the Notes (or)
Clicking Group icon, while adding a notes.

In the 'Share with Users' pop-up, Type Name (to whom you want to share Notes) and assign Permission and hit Add. You can add as many as Users and can edit Permission as you wish.

As soon as, you hit OK, these Notes will be Shared and will be listed and accessible by the receiver.
Delete Notes:
To delete notes,
Right Click on the Note you want to delete and hit Delete Note.
Deleting the Shared notes will also get deleted from the Notes list of shared users.