Output Messenger offers On-Premises Chat Server to provide you the Private and Secure Communication, as all data are more precious stones in business's fruitfulness and firm victory. It is suitable to any size businesses and brings all your business communication to a single point.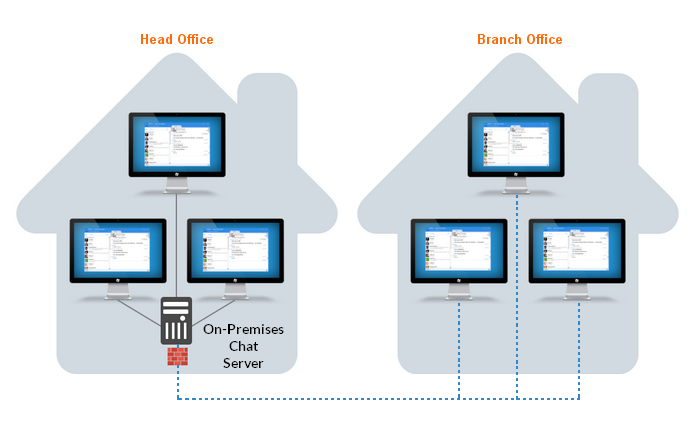 Benefits of On-Premises Chat Server
Output Messenger On-Premises Chat Server provides you full control over installation, data privacy and security.

1. Your Server, Your Control
When you mount the Server on Cloud, the provider will allot you only the specific storage space for a particular period but with On-premises, you can control your Server as it rests with you.
Also when we say about data, it's not just a piece of information that have to be least noticed. Any data / chat in your business is worth to millions of dollar investments which will be in your server.
2. Access at any time
You won't get an idea where your data resides within the multiple Clouds. Also Cloud will provide you with a specific band width and may be restricted within some country.
But with On-premises, the Server can be connected at any time. Simply, you can view and access your data whenever you need. Also no third-party users can access your data, as it is in your server.
3. Private and Secure
With Self Hosted Chat Server, the Chat messages will be transferred among clients under your Server within your firewall. Hence your conversation will be kept within your secured firewall that will preserve your data.

4. Latency
Accessing data within cloud will consumes time when compared to On-Premises, as it has to traverse time through the cloud. In Private data center, it will be quite controllable.
Here, the Output Messenger Chat server is coming up with voice and video call/conferencing which is more controllable, as it is at your own premises.
Keep your Communication as Private and Secure with Output Messenger On-Premises Chat Server.