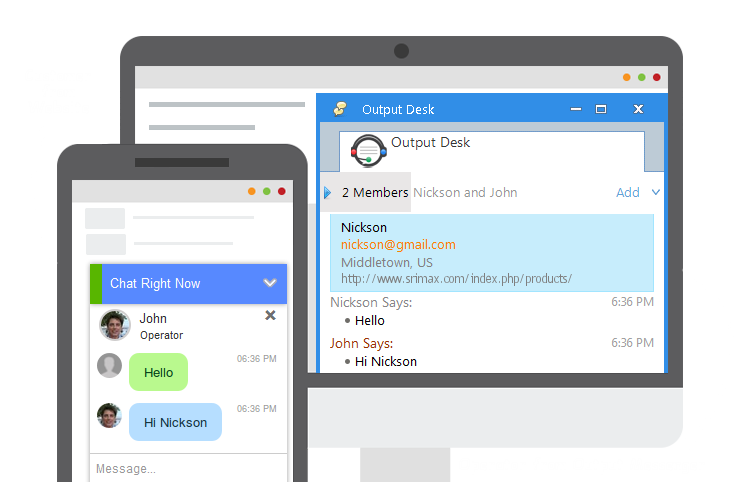 Instant Messenger
+
Live Chat
Chat with your Colleagues and Customers
in real time
With Output Messenger's integrated Output Desk
Provide prompt and brief answers to your customers in real-time from Output Messenger chat window.
Significant Features of Output Desk
Chat with your customers in real time
Easy to integrate with your website
Track / Invite your online visitors
Universal Canned Messages
Geolocation
Versatile Operator Departments
Offline Messages support
Multi-Operator Chats
Transferrable Chats
Sound Reports
Integrate & Start in Minutes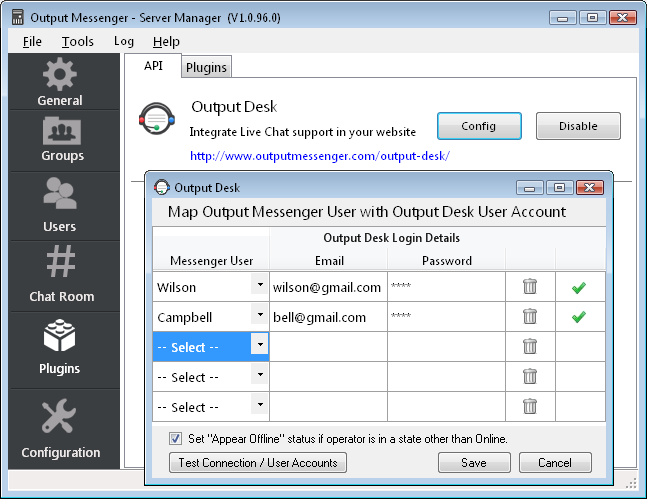 Steps to Integrate
Signup in Output desk & create Operator accounts.
In Output Messenger Server Manager, Click 'API > Output Desk > Config' button.
In the Output Desk Config pop-up, map your relevant Output Messenger Users with Output Desk Operator accounts.
That's all! Now Output Messenger & Output Desk can communicate with each other. You can get your customers chat messages from Output Desk over Output Messenger chat window.
Advantages
Why need Integration?
Integrate and Amaze with
Instant Messaging, Group Chat
Chat Room, Announcement
Voice & Video Calls
Custom Groups
File Transfer
Desktop Sharing
Improved Team Collaboration

Monitor your Customers lively
Proactive Chat Invitations
Transferrable Chats
Geolocation
Handle Offline Messages
Get Ratings from your Customers
Improved Sales
Chat with your Customers waiting on your site.
Enjoy the chat with Customers & your Teams at once and Get Amazed!