Now-a-days, we all are familiar about the usages of Messengers. The impact of messenger has reached its top most peaks among all the applications in the world. The term "Messenger" means the tool that helps you to exchange / transfer texts between two entities. With the power of networking, Instant Messaging has become a global phenomenon for exchanging your ideas.
Messengers play a major role in every business and make your business leads to collaborate with each others. Based on the usage, Messengers are classified as:
Private Messenger
Public Messenger
Both Messengers in common help you to transfer your messages in real-time.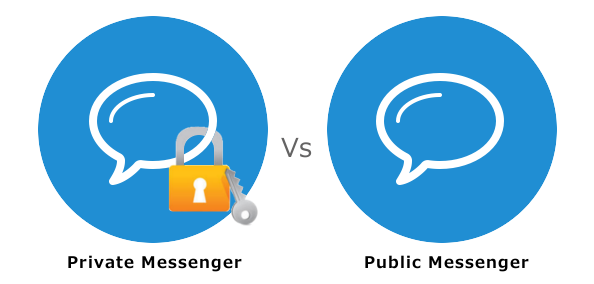 The Public Messengers use internet facilities to perform the exchange of texts & files whereas the Private Messengers perform those actions within your customized Intranet inside your concern.
You can see here the main differences between the Private and Public Messengers.
| S.No | Private Messenger | Public Messenger |
| --- | --- | --- |
| 1 | Private Messenger operates within your business provinces. | Public Messenger operates on worldwide. |
| 2 | Private Messenger increases the productivity by avoiding the distractions in work and engaging the employees. | Public Messenger opens the gate to your employees for their personal chat with besties and relatives. Thus it spares your employees' valuable time. |
| 3 | Private Messenger prevents third party apps and your employees from engaging in the things next to their works. | Public Messenger puts forth trial packs of the third party apps. |
| 4 | Private Messenger uses Active Directory and LDAP which prevent outsiders from chatting with your employees. | Public Messenger has no user restrictions. Your employees can add as much contacts as they can. |
| 5 | Private Messenger prevents attacks, hacks and transfers of vulnerable viruses, worms etc, also the threat of Fake accounts, because communications are done within your firewall. | Probability of attacks, hacks, phishing is high and increases threat of viruses. |
| 6 | As the communication done within your firewall, you can confidentially send your confidential messages. | Protection of your information rests with you. You will bear the whole responsibility in preventing your messages. |
| 7 | All messages are stored in central repository, therefore no worry about deletion of messages. | Messages once deleted cannot be retrieved again. |
| 8 | As all of your employees are within your intranet-network, no need to worry about internet connection for messaging. | Communications can be done only with the help of internet. |
| 9 | Private Messenger won't save or use your employees' details for other purposes. | When you use Public Messenger, you will enter into a treaty with those messengers so they can save or use your details which may liable for vulnerable actions. |
Hope, these differences provide you a clear idea about the benefits of using Private Messenger for businesses.
We are proud to say you that our Output Messenger is the right Private and Secure Instant messenger for your business activities which provides Chatting feature along with the following amazing features.
Fast File Transfer
Favorite Users list
Desktop Sharing
Video Conferencing
Voice Calling
Emoticons
Internal Mailing
Notes and Reminder
Users Status History
Multi-language support
Screen Clippers to capture/share the screenshots instantly
Off-the-Record (OTR) Messaging for confidential messages
Standard Integration facility to integrate with any other third party Apps
Find the power of Instant Office Messenger using Output Messenger and bring all your Business Communication to a single place. Certainly, it will improve your chat experience and make you enjoy the chat.