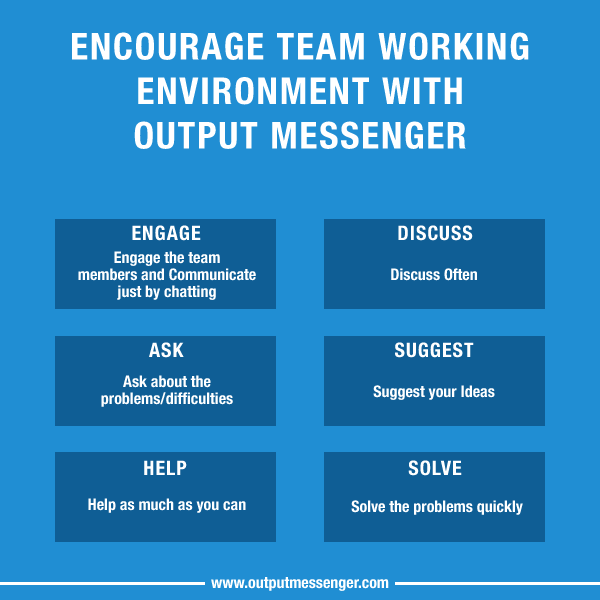 Team Work is simply defined as a combined effort done by combination of personalities with co-operation, willingness and whole hearted effort to achieve a common goal. It is a series connection. If there is a disconnection in a single link, it will lead to failure in getting the output. Team work is a trunk that will bear all members, efforts and fruit of your labor. As a project manager, combining your team members' heart and minds is not an easy task. To create effective teamwork across your organization, you need to break down any departmental barriers to collaborate, so that you can draw on the best people.
Things you can get from Team Work
Higher Efficiency, Speed.
Greater Effectiveness and responsibility.
More thoughtful , shared, innovative Ideas.
Mutual support & improved relationship.
Improves your products and services.
Increase Productivity by enhanced creativity.
To reap the ripen fruits of team work, follow following things.
1. Engage your Team members
Team Engaging gives you more profit and more productive outcome. Make your team-mates that everybody is important. This feel will build your team co-ordinations, which will results in right contribution of your team members. Make your team to realize that they are a part of the success. Smarter team engagement results in stronger business results.
2. Set Understandable Goal and Roles
Without a goal there won't be any team or teamwork. Set reasonable, common and immovable goalposts. Continuous changing in team goal will annoy your team members, so be diligent in making every goal. Review each teams' and members' role and overall purpose frequently to act according to it. Give a clear sketch on what other team and members do and how can they help each other.
3. Make the Team Members to Communicate
Effective communication is an essential one with-in distributed member and teams which starts with listening. Create an open, honest and respectful communication channel between your team. Make them to Discuss, Share their smart ideas, Listen and Respond to their conversations. Communication should be effective not only within your team, but also between each and every team in your concern.
4. Involve Team Members in Decision Making
Help your team members to understand their importance and values. Every member has unique talent, skills and experience. Helping your fellow worker to know their ability is an immeasurable benefit to your concern. Discussing about the problems, needs and organizations development with your team will provide you a best way to lead your team and company. Their decision will help you to achieve your target shortly and smartly. Also ask your teammates about their problems and suggest them a way to solve it.
5. Expect Innovative Ideas
Encourage your team for different creative, innovative viewpoints, so that you can achieve your goal with smartest way. You can achieve this by discussing your goal and needs with your teams freely and make them to feel free to express their own ideas.
6. Share Credits to your team
Celebrate your success each time. Take your own time and spend your energy to thank and reward, to identify and specify contributions of your teammates, whom lead you to success. Give them honor and promotions to appreciate them. This helps your team to contribute their whole greatness to your organization.
Over all, to achieve unbreakable breathtaking record with your team, the communication channel should be open and wide. We would like to suggest you such powerful communication channel Output Messenger which has everything like Chat ,Group Chat, Chat Rooms, File Transfer, Voice Call & Video Conferencing etc to build strong team collaboration and improve the performance.