Service Profit Chain
The Service-Profit chain is a business theory model developed by a group of researchers from Harvard University. The main goal of this theory is to manage and measure success of your organization, by placing the employees and customers through the traditional workflow in an organization.
The Service-Profit Chain establishes a relationship between Organization's Profit and the factors that leads to Profitability such as Customer Satisfaction which leads to Customer Retention, Customer Loyalty and Productivity.
Workflow behind Service-Profit Chain
To understand the Service-Profit chain, we have to peel it off from the outer cover (I.e Profit & Growth). Profit and Growth is driven by Customer Loyalty which is driven by Customer Satisfaction that is driven by
Employee Service which is driven by Employee Engagement.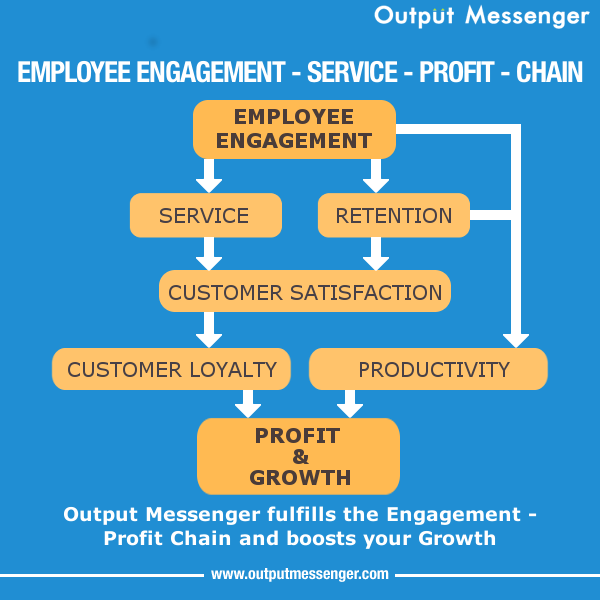 Employee Engagement – Service-Profit Chain
When we analyze to the root, the intrinsic force that is driven from Customers Satisfaction to Productivity is because of Employees Engagement.
Employees Satisfaction and Customer Satisfaction are the two metrics that are closely to be reviewed. Only engaged employees can understand the customers' needs as clear as crystal and can work towards to achieve it. And this only drives the customers to be super satisfied and to become loyal to you by becoming ambassadors to your products and increase your Sales and ROI.
Customer Loyalty triggers Profit & Growth
Loyal Customers are familiar with operations of your firm, as you are trusted provider for them. Because of their trust, there will be an uninterrupted relationship with you and customers, which will lead a stable flow of revenue. Also they are the referrals, who emits your testimonial aroma of your products, which increases the your growth. From Loyal Clients you can have,
High Retention Rate
Greater Revenue per Client
Lower Servicing Costs
Increased Referrals
Customer Satisfaction triggers Customer Loyalty
Not all customers become loyal to you, only those who are super satisfied with your products and service will become a loyal customer. Through satisfied customers only you can repeat your business.
Yes, only satisfied customers will regularly come to you, buy more often, try new products, buy only from you, looks only at you and recommends you. Also, if all of their needs were fulfilled in your products, there will be no way to go ahead from your business. If all of their desire were met with you, they will love you and become best referrals to your business as the loyal customers.
Customer Service + Employee Retention triggers Customer Satisfaction
Customer Service is a key cornerstone for Customer Satisfaction. Resolving the customers' doubts and complaints will provide them a good customer service that will make them to fix firmly into your business. Fulfilling Customers needs make them satisfied.
To acquire a strong customer service, you need well experienced employees. The employees who are in your company for a long time, will only know the nook and corner of your business, so that they can easily assist your customers.
Employee Engagement Triggers All
Employee Engagement and Employee Satisfaction are inter-related to each other, but they differ. Employee engagement is about either the employees are happy with their task and work place or not. Employee Engagement will make Employees retention area as very stronger, which automatically will drive valuable Customers Service.
Employees should be motivated to do their work (you can use Output Messenger to motivate your employees and teamwork), and recognized for their works that will make them as satisfied and lead them to commit to your company.
With Employee Engagement and best Customers Service, your earning per share should increase surely. Thus, if each and every employee is engaged, there will be a hundred fold productivity with you.
Leadership triggers Employee Engagement
Always a work flow starts with an efficient Leadership that will bind all of the Employees together. Only Service-Profit leader can explain, develop and maintain a climate focused on employees and customers. He / she is an engaged leader and responsible for creating engagement within the employees. They only care about and spent time for employee's time, test their delivery process, encourage employee's suggestions and innovations, care and concern for them, recognize them and guide them.
Implementing Employee engagement – Service-profit chain in your normal business activity will help you to have high Profit and Growth with a flexible work places.
The mortar for all these activities and basic workflow is the Open Communication. To have such a open communication environment, you can prefer the Private Lan Messenger software Output Messenger. Because only with Private Messenger, all your company information will be Secured and Confidential.