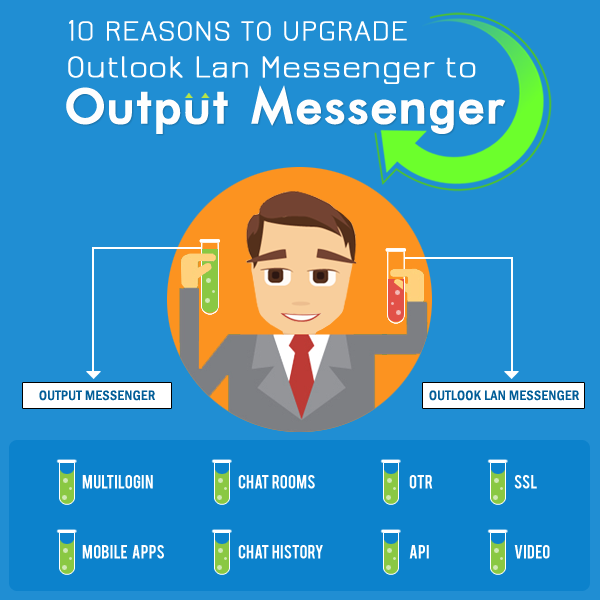 We as an "Output Family" are very much overjoyed to introduce our Outstanding Output Messenger – Private and Secure Instant Messenger, which will exactly suits to Organization where communication is more important. When a new product is introduced, you will be in dilemma whether to upgrade or not to the advanced. Here our Outlook LAN Messenger is completely rebuilt and exhibited before you as Output Messenger with more advanced features. As a human, we will always prefer the mobile with all its accessories under one roof rather than searching for that one which suits each other. Just like that, we are launching your Outlook Messenger as Output Messenger with its chatting accessories. Let's have a look on its eye-catching enhancement.
1. Multiple login with single user credential
It is common now in accessing multiple devices such as work station, laptop, home pc, tablet, mobile etc. Output Messenger is capable to run in nearly all devices & you can sign-in with your single user account. When a message sent to us by a colleague, the message will be delivered to all your active devices to make sure it is instant. Even you can login in browser version with same user account. All your chat messages are synchronized between your devices. You can chat from anywhere / anytime without any barriers.
2. More Secure
Security of your data and information is very important to us. As all business sensitive data are transferred, it is essential to protect from unauthorized access. Your chats are encrypted and authenticated during transmission and reception. All socket communication between Output Messenger Server & Client is done under SSL (secure socket layer) by using internal certificate. So you can stop worrying about your security and feel free to use this Secure Messenger.
3. Chat Rooms
To facilitate the chat between the project team members or department users, we here added up chat room, where you can enter to chat regarding your project.

Yeah! I understand your mind voice,  "Outlook LAN Messenger also have this facility as Group chat, Then what's new with it? Isn't it?".
The discussion in Chat room will be maintained, where all the chat room users can view at any time i.e Even if an any user is offline at the time of discussion, he / she can refer the chat by entering into chat room. This will make sure all are in same page.
4. Better Chat History View
Not only chatting, you can have its total history synchronized with server and can view it using "View Log" option. View Log will provide you with all to and fro chat messages, mails, files even group chats and announcements. Another knack is you can pick up a particular chat using a specific word or a user. You will have its result along with its time. You can also print these logs, if you'd wish. All these activities are because of "Centralized Log Storage".
5. Better Mobile App
Using Single user Credentials, you can login with same user account including Mobile. Our Apps are available for iOS & Android, can work both in Mobile Phones & Tab. In Output Messenger we are having push notifications to your mobile, i.e even our mobile app was not running, you will receive messages. We were unable to implement this in Outlook Messenger, due to its working design.
6. Off-The-Record messaging
There may be some junctures, where you have to discuss confidential information especially in management side. In such instances, you can simply set it as Off-the-Record message, where your message will not be logged either in Server or Client side. Once you close your window, it cannot be retrieved in future.
7. Browser based version
With Output Messenger, there is no need to worry about installation of software to communicate with your office, as Output Messenger server has inbuilt web server to support browser based version. Just access Output Messenger in web browser & stay connected.
8. Improved Voice, Video & Desktop Sharing
We have improved the quality of Voice & Video Conference. Also, the desktop sharing is much improved. Still there are plenty of spaces for us to improve in these features. We are working to integrate with mobile devices too.
9. Integrate with Other applications
We also made your integration with other application easy to boost up and customize your communication. You can simply pass the request for your integration.
For example to send notification to output messenger from other application, you can just access our API as simple as below.
Request:
POST /api/notify?from=sam&to=John&room=Support&message=New Ticket Posted
10. Regular Updates for future
Our team is working round the clock to add more power for our new Output Messenger. Output Messenger is also designed in such a way to easily plug-in/plug-out a feature. So we will have many more branches coming from our communication trunk. As Outlook Messenger was developed from 2003 in old platform, we will not have any feature updates.
As Output Messenger was developed aiming to meet all our future requirements, we require you to provide the same support & love.